Looking for delicious and easy easter dessert recipes? Well then you are at the right place. Easter, one of the holy festivals celebrated on earth surely deserves creative desserts. Easter as said in holy scriptures celebrates the resurrection of Lord Jesus. There are many traditions associated with Easter which makes the celebration more important and auspicious. One of the most celebrated and famous easter traditions is Easter eggs. As per scriptures and popular belief, Easter egg tradition has its origin in age old cultures beyond Christianity too.
This tradition symbolizes fertility and birth. Keeping up with the spirit of birth and resurrection, the easter egg tradition has been imbibed and is being practiced till today. In this tradition, people decorate eggs and gift them to each other as sign of fertility and birth. There are many fun games that involve hunting of decorated eggs for children.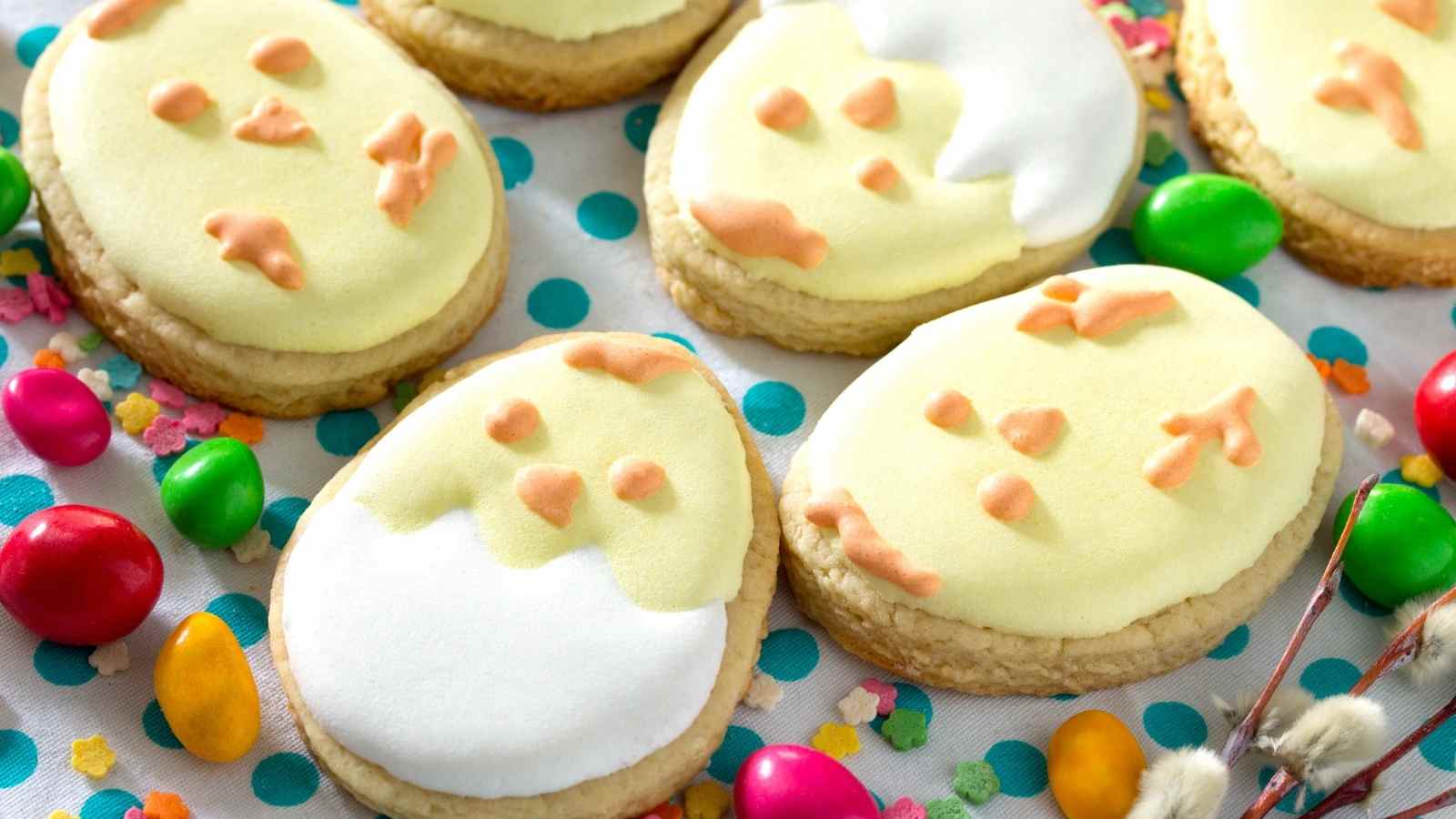 Along with easter eggs, Easter also calls for Easter bunny. A happy creature, Easter Bunny is expected to deliver colored egg chocolates in easter basket to houses. This spreads happiness and makes easter more special. So, keeping up with these lovely easter traditions we have amazing easter dessert recipes with detailed instructions. You can make them easily at home and enjoy them with your friends and family.
Top Easter Dessert recipes: Easy to make, Delicious to taste
Easter eggs have a very important place in Easter celebration. So, keeping up with the traditions we have these specially curated recipes for you. Try them out, you will surely enjoy.
Zumbo Easter eggs: must try easter dessert recipes
This mouth watering dessert will surely make your easter extra special. This dessert looks like an egg, thus further enriches the tradition of easter eggs. Zumbo easter eggs are delicious white chocolate with hazelnut crumble, rich chocolate mousse, delicious coconut jelly and most important tropical curd. So, if you are looking to decorate your easter dining table with exotic dishes, you need to add this to your easter dessert recipes.
Directions for Zumbo Easter eggs for your easter dessert recipes
Preparing hazelnut crumble for your easter dessert recipes
To prepare your hazelnut crumble, you need to use an electric beater. Beat the eggs and cream together till they look pale and are creamy together. Once the egg and cream are done, you need to add the hazelnut, flour, salt and the cocoa as provided in ingredients. Then you need to combine all this together. You can use your electric beater to combine them together. Once done, you have to knead it until it is smooth.
Put the kneaded dough in a wrap and place it in the freezer. You can keep the dough in fridge for around 30 minutes or unless it becomes firm. Parallelly you can preheat the oven to a temperature of one hundred and sixty degree Celsius. Grate the hazelnut mixture and spread it over the baking tray. Then you need to bake the mixture for around 10 mins to 15 mins or until its is golden and crumbly. Do remember to stir it every 15 minutes, so that it does not burn or over cook.
Preparing the chocolate mousse
Prepare the baking tray with baking paper. Melt sugar in a baking pan. Once the sugar melts or turns golden, add hazelnuts and quickly stir. Once done, pour the hazelnuts onto the tray and wait for them to cool down. Then chop them into fine pieces. Heat milk and glucose to a temperature of 85 deg Celsius. Melt chocolate in a bowl by placing over shimmering water. Soak gelatine in cold water for 5 minutes and squeeze extra water. Add this gelatine to hot milk. Once it dissolves, add this mixture to melted chocolate. Add this to the hazelnut and cool until it reaches 35 deg Celsius.
Passionfruit and orange curd
For this delicious easter dessert recipes, soak gelatin in cold water for 5 minutes. Add the passionfruit juice to a saucepan and cook over medium heat. You need to add the orange juice, milk powder, sugar, eggs and lemon to this pan and cook together. You need to cook till it reaches a temperature of 85 deg Celsius. Once it is done you need to add the gelatin to this mixture. Before adding the gelatin, remember to squeeze out the extra water. After the gelatin dissolves in the mixture, strain it out in a heat proof container. Post this you have to wait for the mixture to drop to 50 deg Celsius. When the mixture reaches 50 Deg Celsius, you have to add butter in pieces and hand blend it with a stick. Once done, wrap it in plastic and place in fridge.
Once done with these, you can prepare your egg shell with chocolate and enjoy. This recipe will surely make your guests happy, so do add this to the list of easter dessert recipes' list.
More Easter Desserts recipes
#2. Bunny Parfait via Instagram
#3. Bunny butt pastry via Instagram
#4. Easter Macaroons via Instagram
#5. Cute Easter Bunny cookies via Instagram
#6. Bunny Dessert via Instagram
#7. Chick Cupcake via Instagram
#8. Bunny cake pops via Instagram
#9. Chick Cupcakes via Instagram
#10. Bunny Butt Cupcake via Instagram
#11. Easter KitKat Cake via eviltwin.kitchen
#12. Egg Nest cupcake via tamingtwins.com
#13. Carrot Patch Cupcake via lifemadesimplebakes.com
#14. Easter showstopper cake via janespatisserie.com
#15.  Easter Bunny Cake via catchmyparty.com
#16. Meringue nest with lemon curd mousse via thekitchenmccabe
#17. Lemon meringue bomb via tastemade
#18. Donut Bunny via sarahmakesstuff
#19. Sheep cupcake via cutestfood
#20. Meringue Wreath via readbetweenthegrinds.tumblr.com
#21. Hazelnut Easter cake via sugarsaltmagic
#22. Egg nest cupcake via ruthblackphotography
#23. Easter egg Macarons via whatshouldimakefor
#24. Chocolate creme egg no-churn ice cream via lifesambrosia
#25. Toasted coconut shortbread vegan cookies via thegreenlife.ca
#26. Easter Bunny Oreo Truffles via oneordinaryday.wordpress.com
#27. Easter Basket tower via flickr
#28. Speckled Easter egg chocolate cake via canadianliving
#29. Bunny bottom pancakes via thislittlepigstayedhome
#30. Easter Chick cake via dixiedelightsonline
#31. Bunny cake for Easter via Flickr
#32. Carrot Munching Bunny
#33. Car riding bunny
#34. Bunny house
#35. Tulip and Lilac Easter Egg Cake via Flickr
#36. Bunny Pancake via Instagram
#37. Mini Easter Bundt cake with surprise via freutcake
#38. Easter Chick cupcake via thesimple-sweetlife
#39. Egg nest treat via sherrihaab.wordpress.com
#40. Carrot shaped Cupcake via hwtm
#41. Cadbury Mini Egg Layer Cake via thegunnysack
#42. Easter bird nest cake via vanillabeanbaker
#43. Easter Sugar Egg via yummly
#44.  Caramel Popcorn Balls via foodnetwork
#45. Easter Panoramic sugar egg via favfamilyrecipes
#46. Carrot cupcake via justataste
#47. Cupcake Bouquet via bakingmad
#48. Rice Krispie chicks via craftymorning
#49. Hatching Chicks Treat via hungryhappenings
#50. Bunny Marshmallow Pops via frogprincepaperie
#51. Bunny mini cake via sprinklesomefun.com